Event Marketing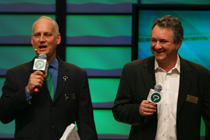 Industry and media events, trade shows, conferences and seminars are what we cut our teeth on. With T's background at CareerTrack, the nation's top seminar and conference provider—plus our extensive experience in this area—we believe every B2B company has opportunities to exploit in event marketing.
And besides, there's nothing like having the right target audience in one place at one time to distill your messaging, branding and fine-tune your sales presentation. To those who know, this one area can result in tremendous dividends, including new prospects and sales.
The Creative Alliance will make you look like the industry leader, or emerging leader in your industry by designing world-class booths, setting up speaking engagements and meetings, preparing sales presentations and adding special touches that get people talking about you and your products/services. We cover pre-planning, event and post-planning strategies and tactics to maximize your investment.
"Great planning and bigger scale perspective! Working with The Creative Alliance, we've been able to grow our event business exponentially over the last 24 months. It's been a lot of fun, and I love working with them!" Beau Glenn, Executive Director, Pure Adventure
Strategic Process We start with the end in mind. Our process at The Creative Alliance is founded upon strategic planning.