News
New website design for client Safely Home Denver Pet Cemetery
February 12, 2013
We recently redesigned the website for our client, Safely Home, The Denver Pet Cemetery & Cremation Services.
It's part of the new branding package designed to showcase Safely Home's emphasis on compassionate care as well as the loving relationship between owners and their beloved pets. The hallowed grounds of Safely Home Denver Pet Cemetery & Cremation Services contain the memories of thousands of amazing pets, including the world famous coyote-German Shepard mix, "Sergeant Geronimo."  Geronimo was the paratrooping WWII  mascot of the 507th Parachute Infantry.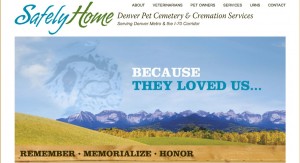 Strategic Process We start with the end in mind. Our process at The Creative Alliance is founded upon strategic planning.
Our Services The Creative Alliance provides a complete suite of strategic marketing, PR, creative development and award-winning design services.
Our Work Strategic planning is a must, but getting things done is what we do every day. You can count on us to implement better than anyone.



March 10, 2015
T Taylor




Most writers want to get their point across with the least amount of words, while leaving a lasting impression. If success seems somewhat elusive to you, you may appreciate this.