Well first, my apologies to John Caples, the copywriter who in 1926 penned the headline, "They Laughed When I Sat Down At the Piano, But When I Started to Play!" His ad became world famous and sold a ton of mail order music lessons.
There's a reason for my headline. On April 1st, 25 years ago I started The Creative Alliance. Yes, on April Fools Day.
I had been working at my dream job for 10 years. The business was extremely successful. In fact, it was one of the fastest growing companies in America. I was at the top of hundreds of employees, paid very well doing what l loved.
But I was restless. The company started promoting a product that went against my grain. We were selling something we knew didn't work. I thought about it. I prayed about it.
What should I do?
Now this may sound strange, but one night at midnight I stepped outside for a smoke. It was quiet. I was standing there watching my dogs do their business, when I heard a small but clear voice, "Leave (company name) and start the creative team."
It was like someone was right behind my ear, but nobody was there. I believe God was speaking to me. I rushed inside and told my wife. I decided to leave, but to give the business plenty of time to replace me. Six months, if necessary. After all, we had three small children, ages one, three and five—and no savings. And, if I started a creative agency, I would need clients. Didn't have any of those.
I told one of the founders (who was a dear friend) that I was leaving. And, also the God part. He told me to let him tell the other partner and CEO, first.
A few days passed. The CEO called me up into his office. He asked me to sit down and said, "T, I hear you've decided to leave us and start your own creative agency. So I've written down 14 reasons why you are going to fail." He opened his writing tablet. "Number one, 82% of all new agencies fail within the first year." He looked at me and paused. Then he proceeded to read each one aloud, going down the list with a ruler. They were good reasons alright.
I was sweating bullets on the inside. And with each passing number, I wondered if I was the biggest fool in the universe.
He was obviously very upset. He ended our meeting with this statement: "I've found that when somebody wants to quit, they need to go immediately. So you have two weeks, then you're gone. You'll get your last paycheck on March 31."
Bam! That was it. 10 years of service, and not even a "Good luck." Well, what did I expect? Not much as it turned out. I was in for the ride of my life.
I started in the basement of my home. Imagine strangers coming in your home as toddlers are playing and crying upstairs, as you try and present a credible business downstairs. Working 70-80 hours every week, we barely scraped enough to get by. This seemed to go on every day, every week, every month, for the first year. I worried…a lot. Still do.
Saying it was hard is the understatement of my life.Truth is, I never heard anyone actually laugh when I started my own business—25 years ago today. But I have certainly heard voices. Both outside and inside.
Happy 25th Anniversary TCA. And thank you to all who have worked here over the years. I appreciate you all.
You have been very good to me.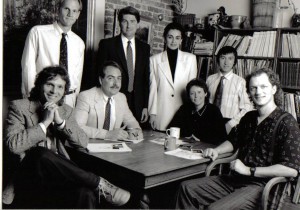 "A successful man is one who can lay a firm foundation with the bricks others have thrown at him."
—David Brinkley
"Talent wins games, but teamwork and intelligence wins championships."
—Michael Jordan
"All you need in this life is ignorance and confidence, and then success is sure."
—Mark Twain
The Creative Alliance, 1991
Standing (Left to right): Jay Moore, Loren Ankarlo, Pardis Fourotan, Quang Ho
Seated (Left to right): T Taylor, G. Brown, Jan Simon and Time Benko