Generating quality business sales leads that convert into customers is the lifeblood for companies that hope to survive in today's competitive B2B and B2C environments.
Traditional "offline" lead generation techniques rely on print advertising, trade shows, direct mail, or even paid prospecting lists to find or attract potential customers. But the buying process is changing, and companies need to find new ways to reach buyers and be heard through the noise. Instead of finding customers, marketers must now focus on being found and building ongoing relationships with buyers.
"Online" lead generation through digital marketing has transformed sales prospecting and the buying process. Now you can now reach out to prospects, providing them with a great deal of information about your company's products or services through search engine optimization (SEO), social media marketing (SMM), and other online inbound marketing channels.
Creating an effective lead generation strategy will help you build trust and capture the interest of your buyer before they are even ready to contact sales. But how do you get started?
Business Lead Generation and the Digital Funnel
A successful lead generation digital program will raise awareness and grow the top part of the "digital funnel." This will increase sales leads and traffic to your website through SEO, search engine marketing (SEM), content marketing, conversion tools, and digital advertising.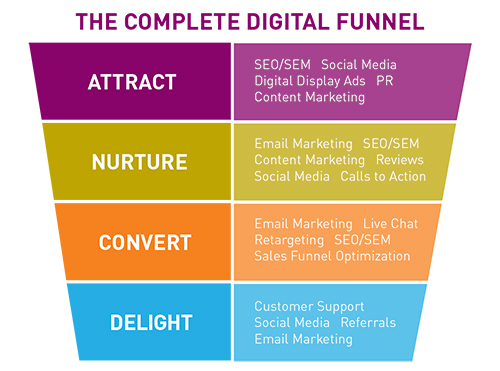 1) Attract. During this phase, people may be a stranger to your brand, so you have to build brand awareness, reach new audiences, and draw new traffic to your website.
2) Nurture. Once you have visitors, the goal is to engage them in your company's products or services through relevant content, keeping their attention so they don't get lost, ignored or go to your competition.
3) Convert. At this point, the remaining people in the funnel are interested in what you have to offer so be ready to convince them with specific product descriptions and your unique value proposition.
4) Delight. Although you now have a customer, keep the relationship alive and well to encourage repeat business, referrals, and positive reviews about your business.
Selecting a Digital Partner to Maximize Campaign ROI
Some larger businesses are able to develop and maintain their own lead generation program by implementing a marketing automation software program such as Eloqua, Marketo, HubSpot, Pardot, and many others. But costly automation software is only as good as the people who use it, so an in-house digital marketing professional is typically needed for it to be successful.
Because of the personnel and resources required for an in-house operation, many companies are opting to outsource their online lead generation to a specialized digital marketing agency. With ever-expanding digital technology and platforms for marketing, the number of digital marketing agencies has grown exponentially over the past few years.
Digital lead generation companies come in all shapes and sizes, from one-person shops to larger enterprises servicing hundreds of clients. Regardless, your decision to choose a digital lead partner should be based on the following criteria:
1) Gets to know your business and your market differentiator, and strategically builds all efforts around it.
2) Has a senior digital expert directing the account and setting the lead generation strategy.
3) Assigns a "real person" to work on your account weekly—versus automated software—who regularly communicates with you to see what lead generation techniques are working and what needs to be adjusted based on incoming leads.
4) Employs professional writers and content marketers to create quality content that is SEO and conversion optimized, working with your company's subject matter expert(s) when needed to create industry-specific content that is technically accurate.
5) Keeps up to date on the latest technologies and has the proper certifications. At a minimum, the agency should be a Google Partner and AdWords® Certified Partner, showing that they have demonstrated AdWords skill and expertise, and delivered client revenue growth.
6) Ensures your account belongs to you and is not tied up in a software program that can't be separated if you want to change service providers.
Generating business leads using a proven digital marketing strategy to find quality prospects and close more deals is essential to staying competitive in today's marketplace. So make sure you choose a top sales lead generation company that fulfills these criteria and delivers what they promise.
Contact us for a free consultation.