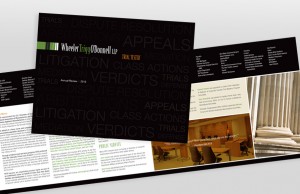 We just wrapped up the design and printing of law firm Wheeler Trigg O'Donnell's Annual Review. The 12-page review summarizes WTO's services and the results it achieved for clients in 2013. Also included is a report on the Wheeler Trigg O'Donnell Foundation, which donates both money and thousands of volunteer hours to various nonprofit organizations.
WTO is ranked in the first-tier in Colorado law firms in 11 practice areas by U.S. News & World Report. WTO is also ranked nationally by U.S. News in the third-tier for environmental litigation, and labor and employment litigation.
"We appreciate the confidence Wheeler Trigg O'Donnell puts in us to produce this important document each year," said Bob Byrd, senior account executive for The Creative Alliance. "They're a highly respected law firm with a sterling reputation."
The review was designed by TCA graphic artist, Jennifer Armstrong.