We are thrilled to have won another Gold Communicator Award, this time for the design and development of a new website for our client, Source Four Commercial Furniture of Denver. Source Four represents only the most respected, most innovative commercial furniture lines, providing products to designers, architects and space planners since 1983.
"The Creative Alliance was able to simplify our complicated industry into a website that is user-friendly and beautifully designed," said Jeff Riley, president of Source Four. "We have had an overwhelming response from our clients, specifically regarding the website's ease of use. It really helps set us apart from our competitors."
The new Source Four website features a refreshed brand and colors. The world of interior design changes quickly and the updated colors were chosen specifically to be more in vogue with current trends.
"Strategically, we created a mobile first site with mobile use cases in the forefront to ensure a great user experience," said Jodee Goodwin, the website designer and vice president of creative and digital at The Creative Alliance. "In addition, our research showed that the number one use of the website was product research, so we updated the products search and pages with a cleaner UI and larger photos."
To view the website, click the homepage image below or visit: www.sourcefour.com.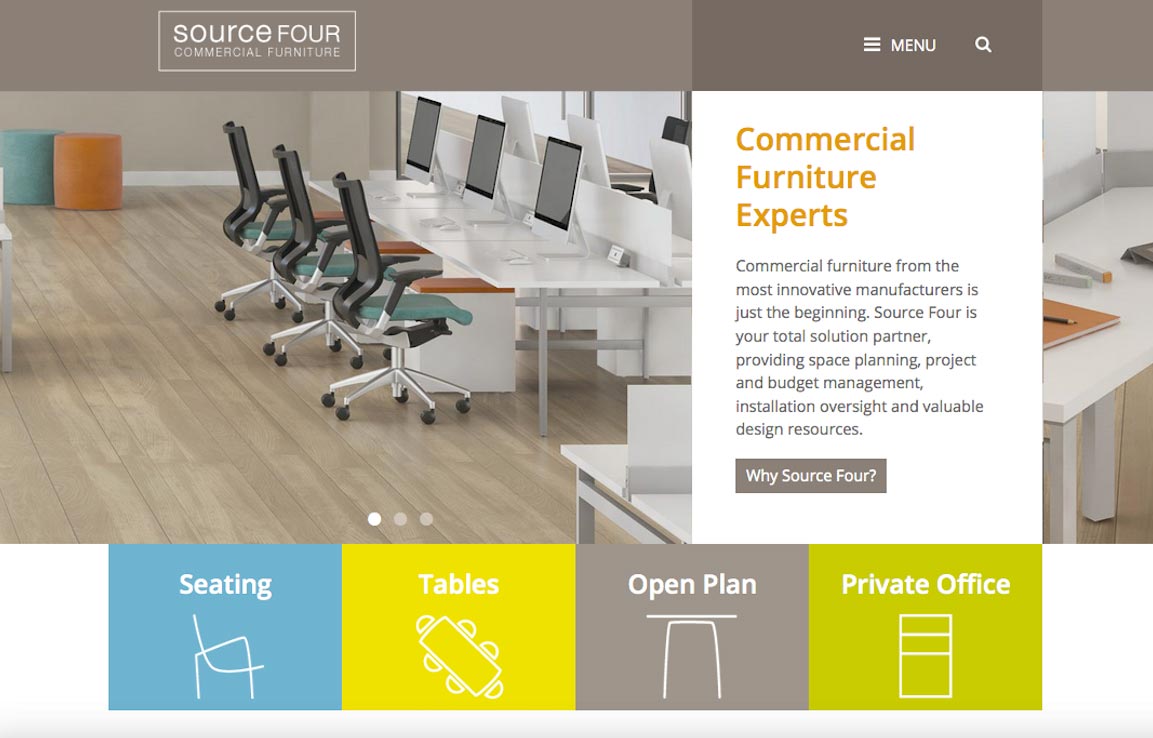 This is one of four Communicator Awards won this year by The Creative Alliance. Others included print advertising gold and silver awards for Avjet Corporation, and an online animation video silver award for Coalfire Systems.
About The Communicator Awards
The Communicator Awards is the leading international awards program honoring creative excellence for communication professionals. Founded by communication professionals over a decade ago, The Communicator Awards is an annual competition honoring the best in advertising, corporate communications, public relations and identity work for print, video, interactive and audio. This year's Communicator Awards received thousands of entries from companies and agencies of all sizes, making it one of the largest awards of its kind in the world. To learn more, visit www.communicatorawards.com.