We recently completed the design of a new aviation safety poster series for our client Global Aerospace, Inc., of Parsippany, NJ, a worldwide provider of aerospace insurance products and services.
"We were challenged by Global Aerospace to make the topic of safety as engaging and memorable as possible to an audience of aviation professionals who are inundated with information," said David Heitman, TCA president and creative director. "After exploring numerous creative approaches, we settled on a 1960s-era movie poster style that Jodee Goodwin, our VP of creative services designed.
The dynamic color scheme, bold visuals and rugged typography were given a modern twist, and all four posters leverage the theme of a chess match—-an apt metaphor that Client Services Manager Amy Hickey suggested in one of our creative brainstorming sessions. "Given the strategic and tactical challenges that flight departments face in keeping safety their top priority, the chess theme was perfect," David said. "Chess involves big picture planning, precise tactics, dealing with setbacks and having multiple preventative strategies in place."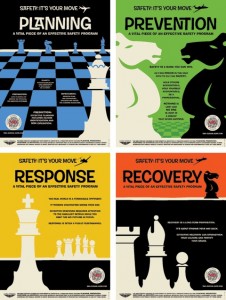 The four posters in the series address each of the four pillars of Global Aerospace's SM4 Safety Program: Planning, Prevention, Response and Recovery.
"It's an honor to serve a company like Global Aerospace," David said. "They have invested tremendous resources into safety training and promotion, and offer them all to customers and non-customers alike. Theirs is a truly authentic commitment to safer air travel for all of us."