We recently helped our client Coalfire Systems publicize its role as the leading independent IT Governance, Risk & Compliance Firm by creating a campaign offering a free copy of Thomas Paine's "Common Sense," the historic pamphlet that inspired the colonies to declare their independence.
"The campaign, launched around Independence Day, was designed to reinforce Coalfire's brand virtue of independence," said TCA President David Heitman. "It also provided a way for Coalfire to stay in contact with clients and create engagement with prospects."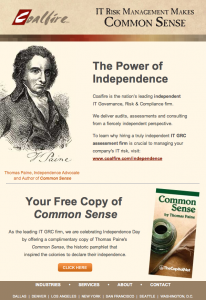 The Creative Alliance prepared an e-blast inviting recipients to request a complimentary copy of "Common Sense" by clicking on a landing page on Coalfire's website.
To request a copy of the pamphlet, go to:
http://www.coalfire.com/Common-Sense