We're excited to share that our UX and UI design work for leading business insurer biBERK, A Berkshire Hathaway Company, has been given top honors by The Communicator Awards. Specifically, our team earned the award for developing a key component of the company's digital strategy.
biBERK PROFESSIONAL LIABILITY APPLICATION
2021 Communicator Award of Excellence (Gold Award) | User Experience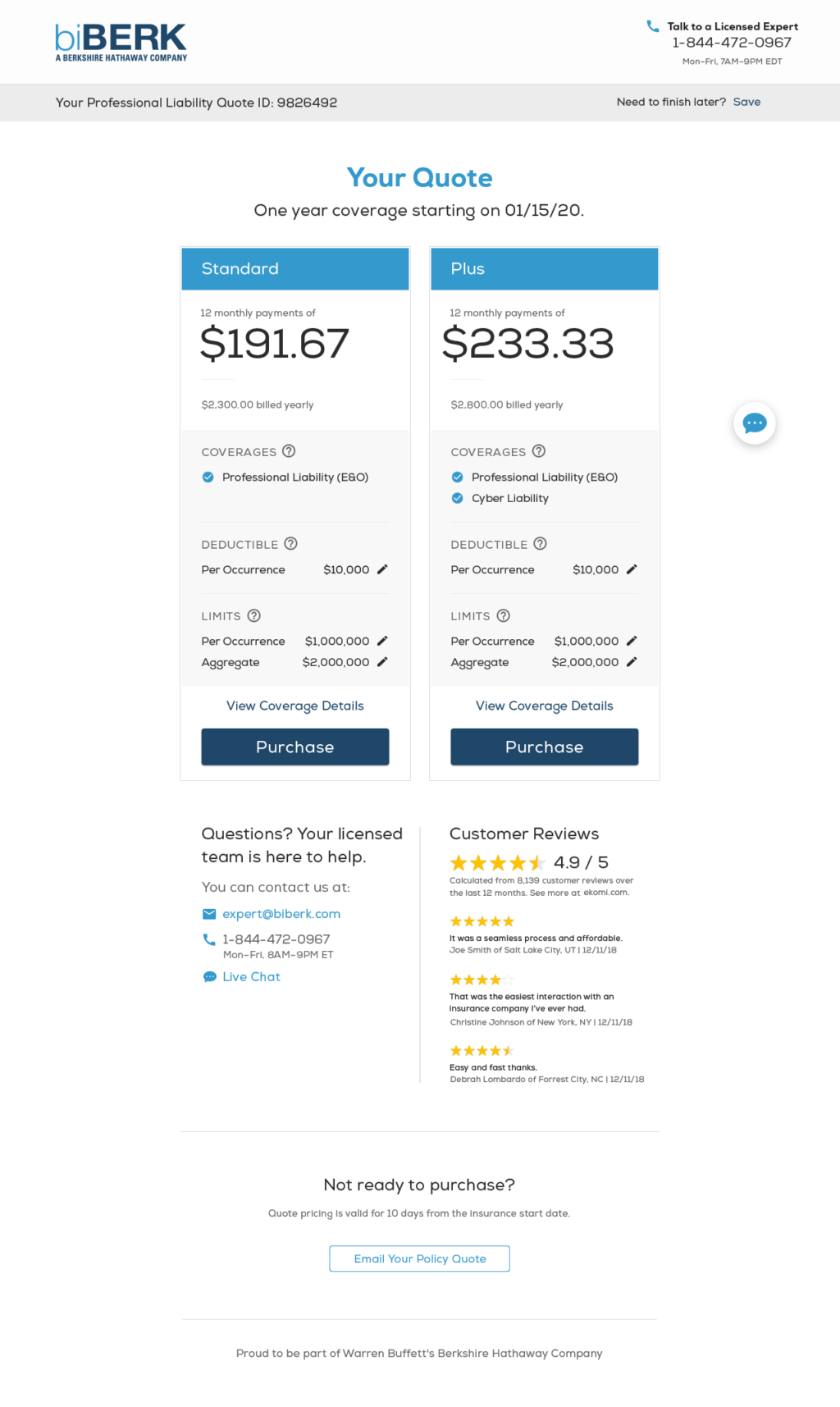 "Our focus in this UX engagement was making it easy for our client's customers to purchase professional liability insurance online without assistance," said TCA VP of Creative & Digital Jodee Goodwin. "We're happy to have accomplished that goal, providing biBERK with significant ROI for this project and helping them increase their market share. Then, to receive a top UX award from a highly regarded organization like the Academy of Interactive and Visual Arts—especially when our work was measured against such a large number of outstanding projects—is something we're very proud of, as well."
Judged and presented by the Academy of Interactive and Visual Arts, an invitation-only organization of business communication experts, The Communicator Awards is the world's largest and most competitive program of its kind. It recognizes exceptional work in many mediums in categories that include user experience, digital design, advertising, corporate communications, public relations, and brand identity.
"One of the reasons we earned this 2021 Award of Excellence from the Academy of Interactive and Visual Arts is that biBERK gave us the latitude to create a unique and effective solution to meet their business objectives," said TCA Founder & Creative Director T Taylor. "We're grateful for their trust, and for similar relationships with other clients that have resulted in award-winning projects in the past."
ABOUT THE COMMUNICATOR AWARDS
The Communicator Awards is the leading international awards program honoring creative excellence for communication professionals. Founded by communication professionals over a decade ago, The Communicator Awards is an annual competition honoring the best in advertising, corporate communications, public relations and identity work for print, video, interactive, and audio. This year's Communicator Awards received over 6,000 entries from companies and agencies of all sizes, making it one of the largest awards of its kind in the world. To learn more, visit www.communicatorawards.com.