Even though the first commercial website was launched in August of 1993, that is still one of the most frequently asked questions of marketing and advertising agencies. However, 23 years later, there is still no magic formula for calculating the cost of a website design.
One reason is that websites have evolved over the years to include far more robust functionality that inevitably drive up the cost. These functionalities include: database integration, marketing automation support, customer relation management (CRM) system support, content management system (CMS), e-commerce, video and custom forms, just to name a few. Another reason for the increase in website costs is responsive design. Just about everyone is using mobile devices these days, so your website better look good and function properly on a smartphone or tablet unless you want to lose business. With hundreds of different screen sizes on the market, designing to accommodate only the most popular devices will affect web design costs.
Although the base price of a website design has substantially decreased over the years due to increased competition and advanced website development tools, the cost of complex sites has increased. This disparity only adds to the web design cost conundrum.
Ultimately, like many other things, when it comes to producing a website design, you get what you pay for. A bargain basement web design means less content and fewer features, or what is typically referred to as a "brochure site," basically pictures and words. Then you go up from there. With each added functionality and interactive component comes additional cost.
What Major Components Should Be Considered?
Depending on your website marketing strategy, the following punch list should be taken into consideration to determine where your website requirements puts you on the low-to-high cost spectrum:
Custom or Template. A custom website built from scratch will cost more, but if you are looking for a one-of-a-kind design and unfettered flexibility this is the way to go. With that said, a template could be the perfect solution for the budget conscious. A smaller retail business can project a top-notch brand using an e-commerce template from companies such as Shopify. Remember, however, that template functionality can be very rigid and any deviation outside the template parameters is typically not an option. That is, unless you are willing to pay for it.
Visual Assets and Content. Just like a printed brochure a website is built around images—videos, photographs, illustrations—and words. Original photography, video and copywriting can add to website development costs, especially if content has to be created from scratch. Client-supplied assets will help lower overall costs, but a competent writer will want to edit content for brand consistency and to maximize SEO.
Responsive Design. As mentioned, responsive design optimizes the user experience on smartphones and tablets. As more people access websites via their mobile devices, your website should look—and function—just as good as on a laptop/desktop display. But responsive can increase the overall cost of website development 20%-40% depending on the extent of features and functionality.
Content Management System (CMS). A CMS enables website administrators the ability to create, modify and manage digital content using a common user interface, thus supporting multiple users working in a collaborative environment. Custom content management systems, typically developed for larger, more complex websites, can be pricey but the investment helps to organize information as well as reduce the cost of maintenance. As an option, choosing a website development platform that includes an integrated CMS, such as WordPress, can be very cost effective. WordPress is currently the most popular and most used CMS. As such, there are a lot of resources available for developing scalable, complex website functionality, and also for integrating with other sites, services and resources.
E-commerce. If you want to sell product online, creating a custom e-commerce website could double your costs. How much depends on many factors, including number and types of products, payment methods, and shipping and tracking systems. Some savings are possible using third-party solutions, or "plug-ins" (such as PayPal), but it still takes development time setting everything up, testing, and monitoring to make sure all components are functioning properly.
Database Integration. Most complex websites consist of data-driven content, allowing a user to pull specific information from a database depending on what the user wants to know. There are numerous database applications, including inventory management, membership directories, document libraries, discussion forums, event calendars, and much more. Depending on the extent of functionality, database integration typically involves time consuming custom programming that can increase website costs by as much as 30%-40%. Expect much more than that for larger companies with enterprise websites.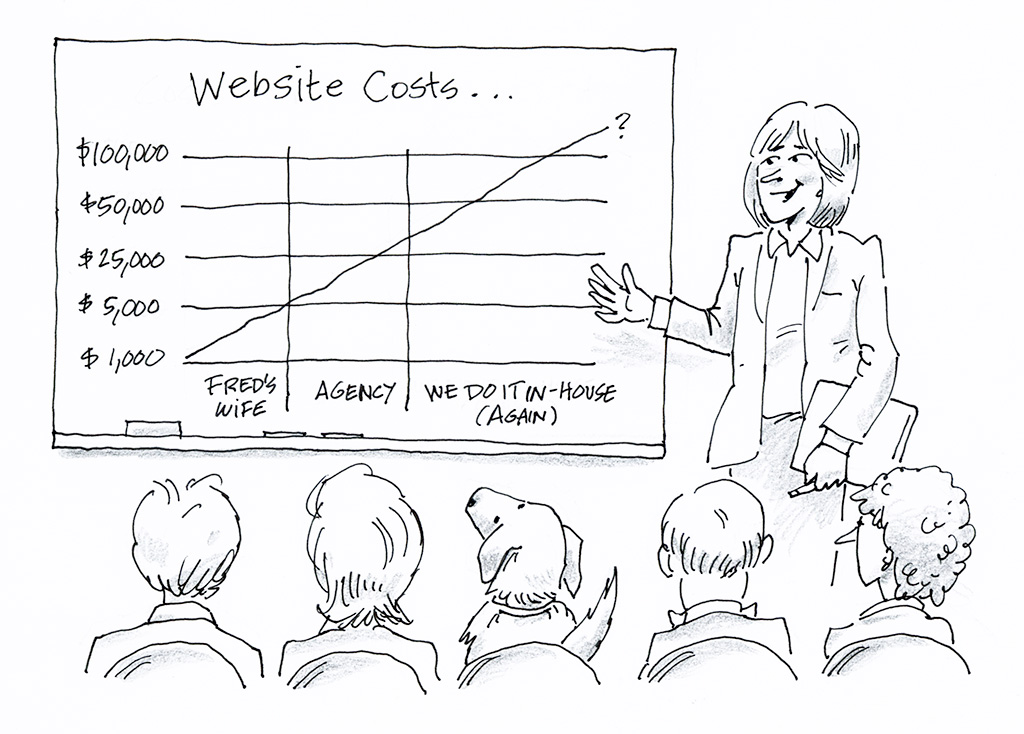 OK, all well and good, but if you are like most "shoppers," you still want some kind of a dollar amount. So, if "more than a dollar, but less than million" is still too broad, the following website design estimate ranges are a good rule-of-thumb:
• Basic Brochure Website—$5,000-$8,000. Yes, it's possible, but expect a template with bare bones interactivity. And you or your company will be responsible for supplying most of the content to fill a maximum of 10-15 pages.
• Basic Custom Website—$8,000-$15,000. This estimate range reflects more pages, assistance with content, responsive design and a content management system (CMS).
• Advanced Custom Website—$15,000-$30,000. Add limited e-commerce and some database integration to the basic custom website functionality, and the tab could land on the higher end.
• Enterprise Website—$30,000-$70,000+. Now you can throw in the kitchen sink. Expect extensive custom programming, robust e-commerce capability, full database integration, and just about every other bell and whistle you can imagine.
Is There Any Way to Save Money?
Whether you are in the market for a basic website or an e-commerce workhorse, site planning and the development of business requirements are critical in determining how the new website will function. Upfront agreement on a visual site map showing the precise navigational flow, content distribution and page count will help avoid costly pitfalls due to forgotten functionality, as well as take into account future needs. Bottom line, if your website design agency won't plan, plan on finding an agency that will. You'll save on time, changes and costs down the road.
Most importantly, working with an experienced and mindful web design team will ensure a successful website solution regardless of budgetary constraints.